Pozzi, seen from the hills
Contacts
Via Borgo Terrinchesi 442G
Pozzi di Seravezza ( LU) Italy
Tel: 0039 (0)584 760363 Cellulare: 0039 340 3436603
Email: gemmabenedetti@tiscali.it
Map coordinates: 43.980106,10.209763 on Google maps
Google Map
How to find us
Only 4 km from the beaches of Versilia, the position of this holiday accomodation in Tuscany is perfect for those who want to enjoy the sea, but stay away from the bustle. The Apuan Alps are just a few kms from the farmhouse.
Excellent location to visit famous art cities like Pisa, Lucca, Florence, Siena, San Gimignano, Volterra; Le Cinque Terre and Carrara (famous for its marble quarries), Pietrasanta (2 km), the capital of international sculptors, Forte dei marmi, with its sandy beaches and other pictoresque villages nearby.

Directions: A12 Genova-Rosignano exit Versilia. After the toll follow Seravezza past two traffic lights and a junction with a roundabout. Continue straight until the next roundabout where you take the first right towards Seravezza. Continue for approx. 2 km until you reach the second traffic light. Turn right (via L.Salvatori), then take the third street on the left ( Via Borgo Terrinchesi). After approx. 30 meters turn left into a dirt road, in front of you and you will find "Antico Borgo".
Coming from Florence or Pisa, exit Versilia. After the toll, follow the same above directions.
Flat in ancient farmhouse in olive grove -Tuscany - Italy
Antichità e Restauro Andrea Silicani
Holiday Flat in Tuscany
Versilia è....
Parco Nazionale Alpi Auane
http://www.affittocasevacanze.net">affittocasevacanze.net è il primo portale in italia di annunci di case vacanze
Under the patio
EVENTS IN VERSILIA:
PIETRASANTA:
Exhibitions - All year in the House of Culture 'L. Russo, 'exhibitions of internationally renowned painters and sculptors.
Museum of Sketches (Museo dei Bozzetti): you can admire the sketches of great works of art created by sculptors, in marble workshops and foundries in Pietrasanta. Free entry, open at night during July and August.
www.museodeibozzetti.it
Concerts in St. Augustine: Pietrasanta in Concerto. Summer evenings in concert with the Philharmonic of Capezzano Monte in collaboration with the great violinist Maestro Michael Guttmann.
www.pietrasantainconcerto.com
Versiliana Festival (Marina di Pietrasanta): In the large park of the Versiliana, in the shade of pine trees, the town of Pietrasanta, each year, organizes evenings (July and August) and theatre with drama, dance and concerts. Also exhibitions and fairs throughout the year. Play area for children and creative workshops.
In the afternoon meetings and debates are also organized at the Caffè della Versiliana with artists and stars of the world of journalism, cinema, music and theatre.
www.laversilianafestival.it
SERAVEZZA:
Palio Micci - May - eight districts of this area compete in a race with donkeys, preceded by a colorful procession of 200 artists with Medieval and Renaissance clothing.
Palazzo Medici: shows and exhibitions of high artistic level in different times of the year ..
Festival of San Lorenzo - August 10: Fair and night of the shooting stars .:
STAZZEMA: Summer Solstice - June - At the summer solstice spectacular event during which we observe the course of the sun pass inside the M. Forato (a mountain with a large arch at the top).
PRUNO OF STAZZEMA: Living Nativity: in December: In the old town is organied this spectacular event which involves the whole community of the village (one of the most beautiful villages of this area).
FORTE DEI MARMI:
S. Ermete (August 27 and 28): Great Fair and fireworks
Award of satire (Premio della satira)- September: event organized since 1973 with writers, distinguished journalists, artists and personalities from the theatre world.
www.museosatira.it
Villa Bertelli: Villa Bertelli in Forte dei Marmi, a wonderful and fresh setting, where series of unmissable concerts are organized in the summer evenings It awaits all those who enjoy good Italian music. A busy schedule, whether you are lovers of the quietest month of June, whether you want to live one of the most beautiful areas of Italy in high season. Exhibitions and evenings at various times of the year.
www.villabertelli.it
NOT FAR FROM VERSILIA
MASSAROSA: Concerts in July and August - Pieve a Elici is famous for the 'Chamber Music Festival' that is organized in the Romanesque church of San Pantaleone
CAMAIORE:
Demetra: May - Peasant Fair with sales of strawberries, flowers and agricultural products.
Feast of Corpus Christi - June -The streets of the city are covered with beautiful carpets of sawdust depicting religious figures on which the procession passes by destroying the wonderful works of art of an entire night
The organ festival di Camaiore is a great musical event of international renown. The organ was built in 1130 to accompany the music of Bach and is one of the few in Italy for this repertoire. The festival is held in the 'Badia of San Pietro' in Camaiore with internationally renowned musicians
CORSANICO:
Festival of classical music with the monumental organ (a masterpiece of Venetian art) which was built in 1602-1606 by Vincenzo Colonna.
LUCCA:
Lucca Summer Festival: The Lucca Summer Festival is a musical event held in Lucca during the month of July since 1998. Concerts are held in the city of Lucca, within the historic walls, in Piazza Napoleone, Piazza San Martino and Amphitheatre square.
As ever, next July 2016, Piazza Napoleone in Lucca will turn into one of the largest outdoor concert venues of the Italian summer. It will be returning for its nineteenth edition of the Lucca Summer Festival, which year after year continues to meet expectations, confirming one of the most prestigious festivals of our country.
http://www.summer-festival.com/
(It's something special!! Have al ook at the site)
Lucca Comics: October / November. Lucca Comics & Games is a trade show dedicated to comics, animation, games (role-table, card), video games and fantasy and science fiction that takes place in Lucca in Tuscany, in the days around between October and November. It is considered the most important Italian exhibition of the sector, first in Europe and second in the world, after Tokyo Comiket.
www.luccacomicsandgames.com
AIRBNB AD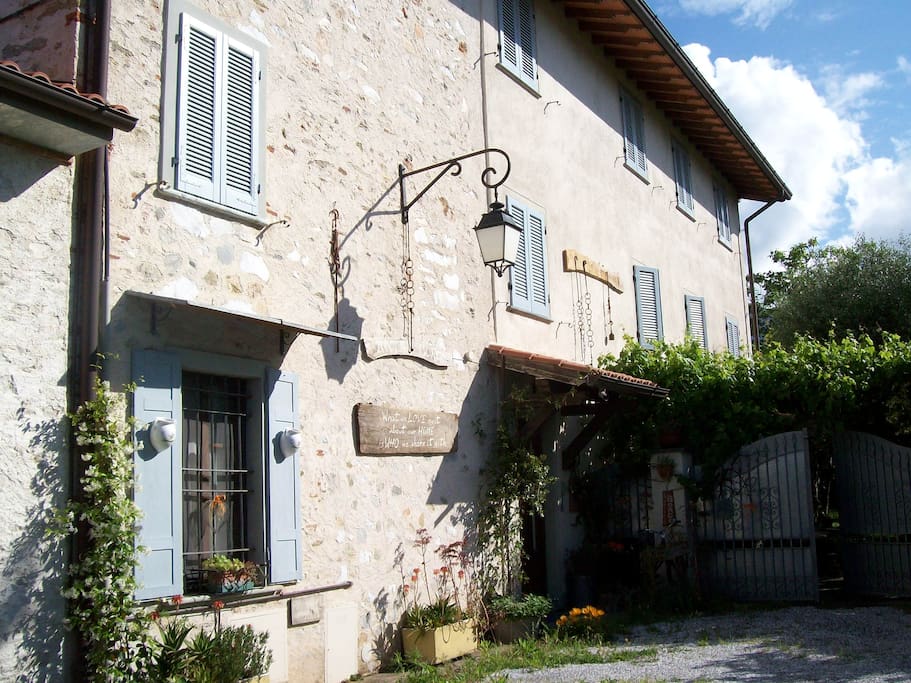 Flats in antico casale immerso in oliveti secolari
Ripa- Pozzi-Ponterosso, Toscana, Italia
Questa bella colonica "ANTICO BORGO", in Versilia, si trova nel comune di Seravezza, in pianura, al limitare dei villaggi di Ripa e Pozzi, in un piccolo borgo di case. Di antiche origini, questa fr...